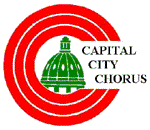 The men's Capital City Barbershop Chorus has been bringing four part harmony to the city of Topeka and surrounding area since its founding in 1946.
The Topeka Chapter is a nonprofit organization and a member of the Society For The Preservation And Encouragement Of Barber Shop Quartet Singing In America in the proud 60 year history of the Central States District of Barber Shop Singing.
Call us today to set the date for your customized Barbershop performance!
Then sit back and enjoy the harmony explosions!

© 2000