Community Service
- Charities Supported by North Shore Chapter, SPEBSQSA -
Reprinted from the March 2002 North Shore Harmony Rag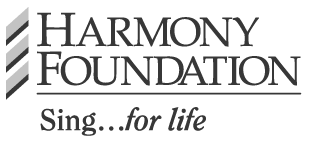 --by Chuck Watson, Past SPEBSQSA President
In November of 2000, the SPEBSQSA Board refocused the Society's Charitable Mission and made Harmony Foundation its official charity. This mission will strengthen the future of barbershop harmony and lead to a better world around us.
You can help SPEBSQSA put singing back in our schools and communities!
Your individual, quartet and chapter donations to Harmony Foundation can provide funding for grants to help projects that promote singing. Over 40 grants have been made in the past several years helping over 20,000 young people to experience singing. Your gifts also help fund Harmony Explosion Camps across North America. Over 2,000 young men and their vocal music teachers have already been introduced to barbershop harmony through these camps. It is this progress that forged Harmony Foundation's motto: Sing . . . for life.
You can help in two ways!
Contributions made to Harmony Foundation can be "Annual" or "Endowed."
Annual gifts to the General Fund enhance the ongoing Charitable Mission of SPEBSQSA. Gifts to this fund provide grants to support vocal music education in our schools and communities.
Gifts to the Endowment Program are never spent, but provide a pool of investment earnings that support SPEBSQSA programs and help ensure that future generations will be able to enjoy barbershop harmony.
To make a contribution or for more information, please contact:
Harmony Foundation, Inc.
6315 Harmony Lane
Kenosha, WI 53143-5199

Phone: 800/876-SING, x 8447
Fax: 262/654-5552

--from a Harmony Foundation brochure

SPEBSQSA CHARITABLE MISSION:

It shall be the charitable mission of SPEBSQSA to preserve our musical legacy through support of vocal music education in our schools and communities.
---

Who We Are
The Evanston In-School Music Association (EISMA) is a nonprofit community organization, established in 1971, that:
Offers professional music programs to all Evanston/ Skokie District 65 public elementary and middle schools, special education schools, and private schools.
Works with music educators, parents, and community members to instill an appreciation for the diversity and influence of the world's music.
Presents concerts that are representative of the diverse ethnic community of Evanston/Skokie.
Each year, enables approximately 8,000 students to experience the joys of music both as an art form and a means of personal creative expression.
What We Do
EISMA provides a unique and valuable service to the Evanston/Skokie public and private schools by:
Twice a year presenting musicians who share their craft, instruments, and love of music with the students. Providing music teachers with pre-performance materials that enhance student understanding and appreciation of the concert.
Providing opportunities for students to interact with musicians, including singing, dancing, and playing various instruments.
Raising funds to bring artists to the community to perform forty-eight concerts each year.
EISMA musical enrichment programs are funded solely by donations from individuals, local businesses, community organizations, participating schools' PTAs, foundations, and grants from organizations including the Illinois Arts Council, Evanston Arts Council, and the Skokie Fine Arts Council.
If you would like to make a contribution, would like more information about EISMA, or have a suggestion for a musical performance, contact:
Wendy Gray Raven
Executive Director
EISMA
P. O. Box 1945
Evanston, IL 60204
847/673-9834

--from an EISMA fact sheet
"It's great that our students are exposed to music they might otherwise not listen to. It broadens their views and hopefully deepens their appreciation for the art."

--District 65 Middle School teacher
(Updated 11/02)