We Meet at Elliott Hall
Presbyterian Home
3131 Simpson Street (Golf Road), Evanston
Here's How to Find Us . . .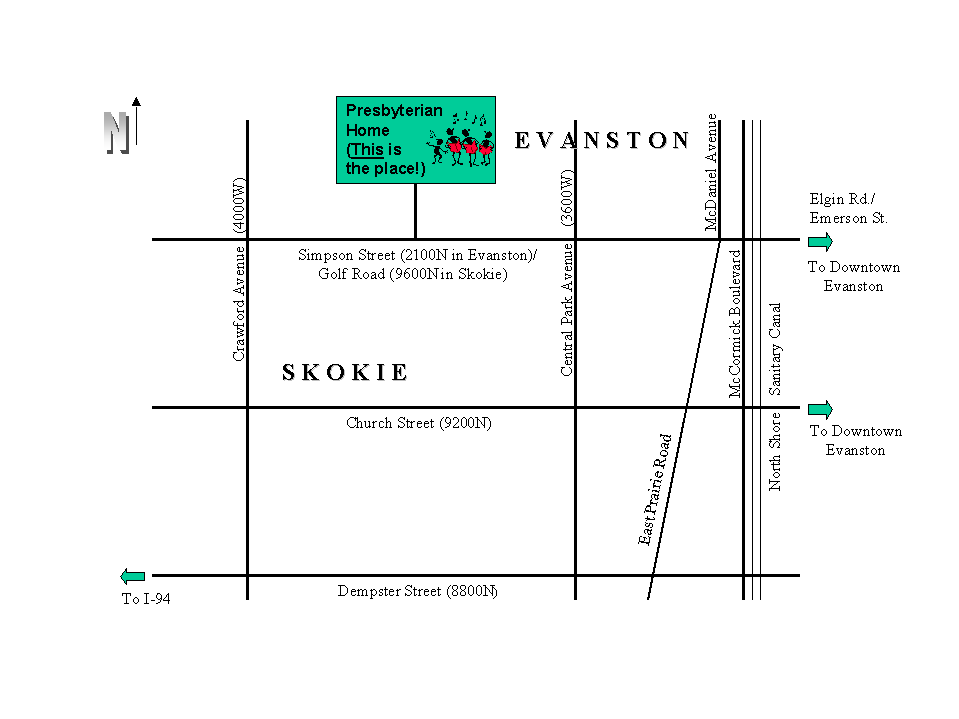 FROM THE EAST (downtown Evanston, Northwestern University campus, etc.): Go west on Emerson St.; it will become Elgin Rd. and cross the North Shore Channel. The first intersection on the west side of the channel is McCormick Blvd. From the Elgin (Golf) Rd./McCormick Blvd. intersection, proceed past two more traffic lights (McDaniel Ave. and Central Park Ave.), then past two speed limit signs. Immediately beyond the second speed limit sign, turn right into the Presbyterian Home driveway and look for visitor parking on the right (east) side.


FROM THE WEST (Skokie, Morton Grove, Old Orchard Shopping Center, etc.): Go east on Golf Rd. past the Golf Rd./Crawford Ave. intersection. The Presbyterian Home driveway is the next left. Look for visitor parking on the right (east) side.


(NOTE: Between Crawford Ave. and the North Shore Channel, Elgin (Golf) Rd. forms the boundary between Evanston (north) and Skokie (south). The south side of the street is Golf Rd.; the north side is Elgin Rd. and Simpson St. Evanston street numbering is different from Skokie street numbering; the 3100 block of Simpson St. is roughly equivalent to the 3800 block of Golf Rd.)


ONCE YOU'VE ARRIVED AT THE PRESBYTERIAN HOME: The main building you will see at the end of the long driveway is Geneva Place. Elliott Hall, our regular meeting place, is in the lower level of Elliott Chapel, the section on the left (west) side of Geneva Place with the spire on top. The glass doors at the chapel are unlocked until nightfall; if you use that entrance, just go down the stairs, into the hallway, and through the double doors to the left. After nightfall, use the main entrance of Geneva Place. The receptionist will give you directions to our meeting place.