(You want pictures? We've got pictures!)
(In no particular order!)

---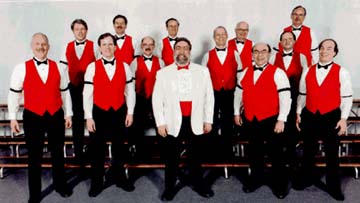 This formal photo of the Shoreliner Chorus was taken at the Illinois District Spring Convention in Peoria in 1997. Our contest set consisted of two Irving Berlin songs, "When the Midnight Choo-Choo Leaves for Alabam'" and "Always." (April 1997)

---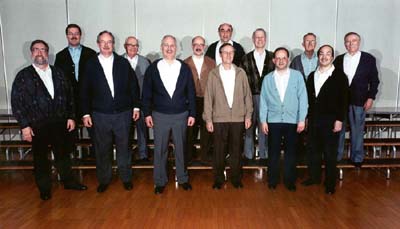 The chorus took a more casual approach in the 1999 spring contest in Peoria. Our performance of "Mandy" and "Sweetheart of Sigma Chi" earned us a sixth-place finish, our best in years. (April 1999)

---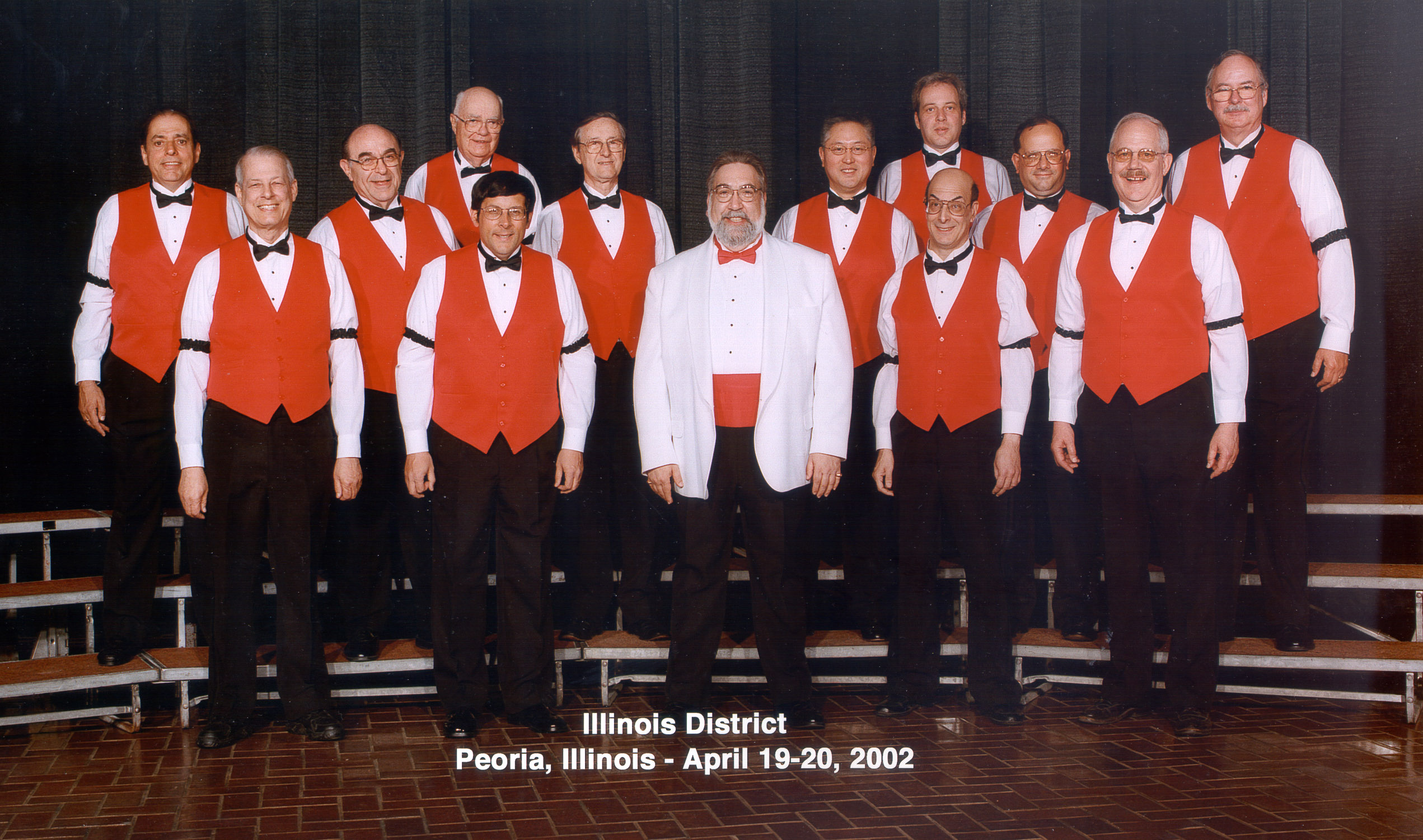 In spring 2002, the mighty Shoreliner Chorus finished sixth and won its second "Most Improved Chorus" award. Not too shabby. (April 2002)

---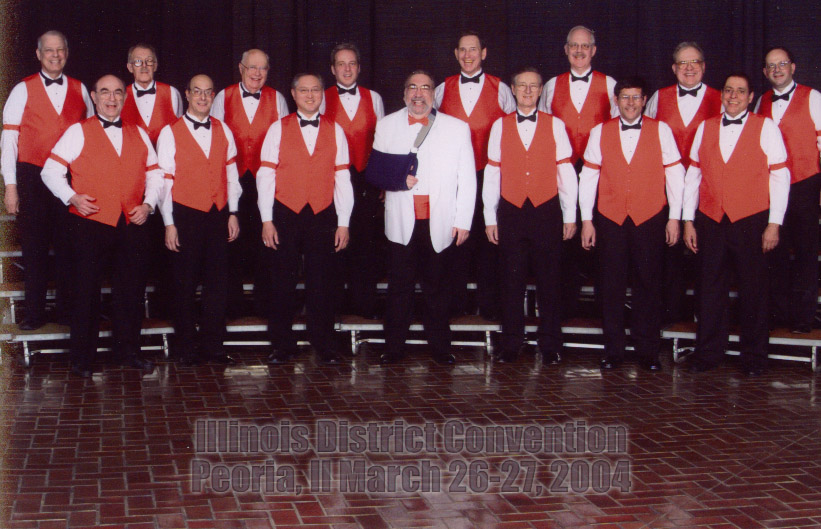 Here we are just before our latest contest bid, in spring 2004. Looks like our director was flying on just one wing.

---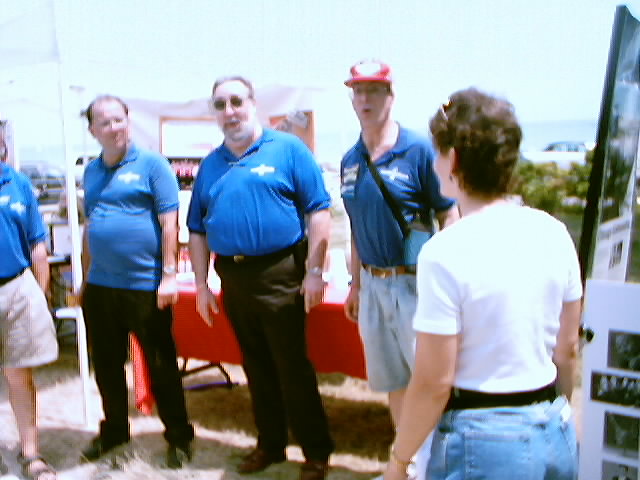 We offered passersby a sample of barbershop harmony during the Evanston Ethnic Arts Festival. (Kevin Jones photo) (July 2002)

---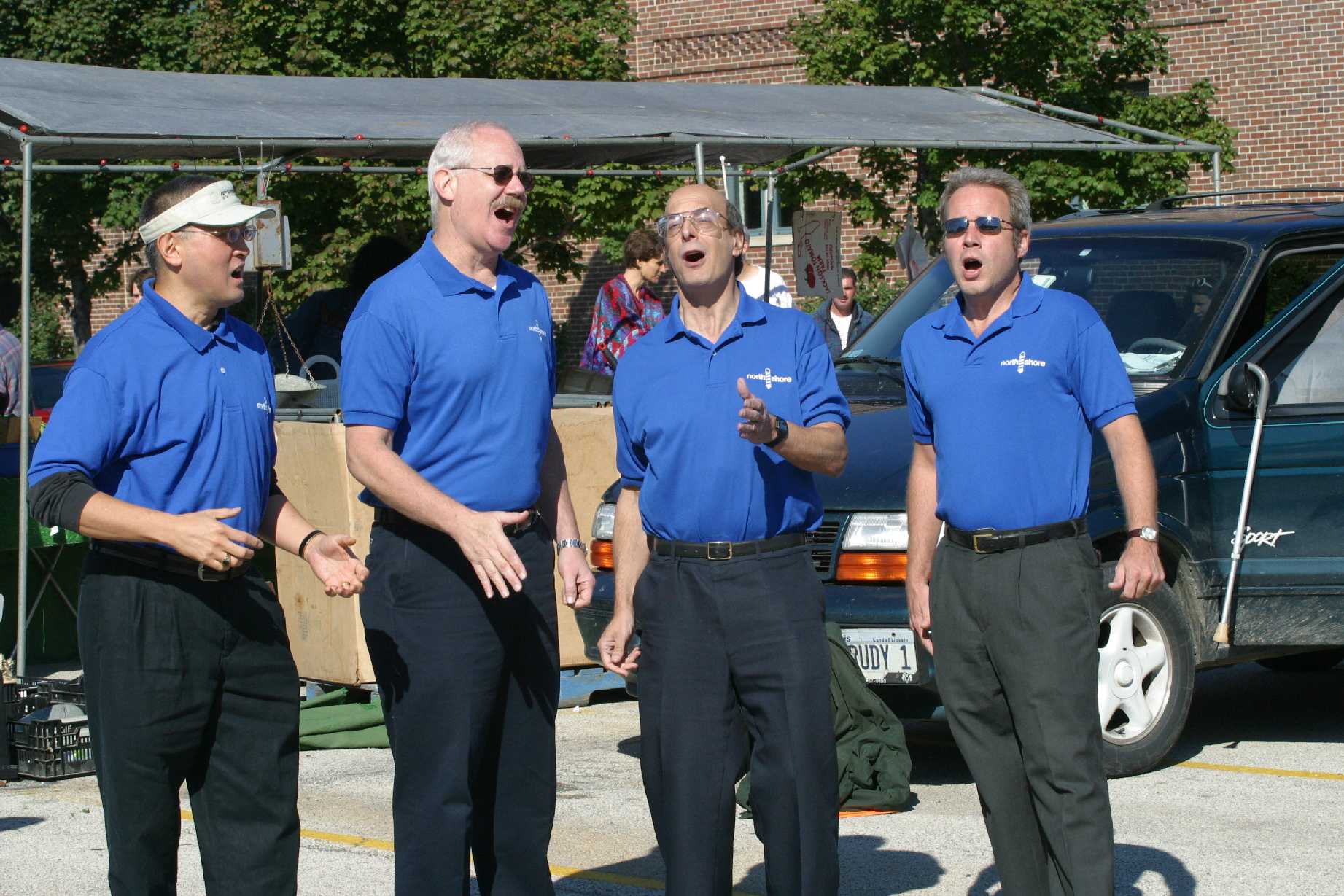 North Shore Four entertains crowds at north suburban farmers' markets every summer. Here we are at the one in Evanston. Fortunately, no one has tossed tomatoes at us. Yet. (Larry Banner photo.) (September 2002)

---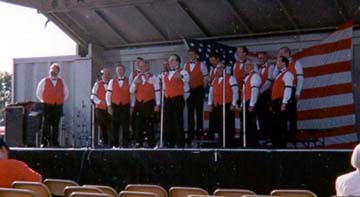 At Skokie's Festival of Cultures, the Shoreliner Chorus presented its best examples of musical Americana. (May 1998)

---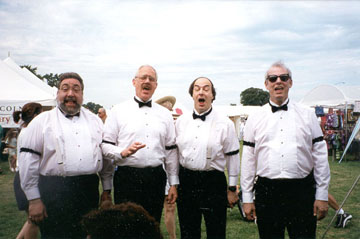 North Shore Four is always a crowd-pleaser at summer festivals, carnivals, street fairs, and sidewalk sales. Here's a shot of the quartet in action entertaining at Chicago's Oz Festival. (August 1997)

---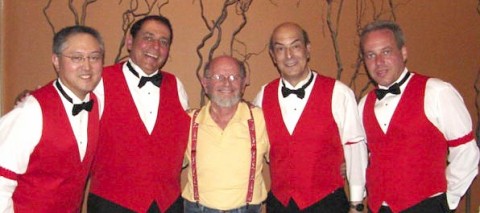 Here's another version of North Shore Four, singing with visiting Barbershopper Wayne Bensman at his son's home in Northbrook. (June 2004) (Brad Bensman photo)

---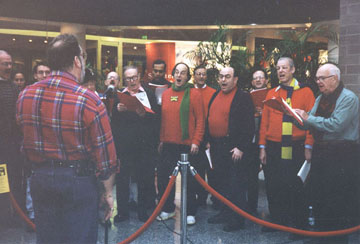 One of North Shore Chapter's favorite long-standing traditions is the annual caroling around the kettle for Salvation Army. Here, the chorus is spreading holiday cheer at Lincolnwood Town Center. (December 1997)

---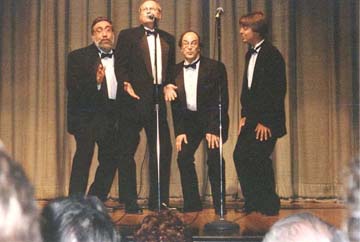 On North Shore Chapter's annual show, Hospitality demonstrates how they triumph over life's travails "Side by Side." (October 1997)

---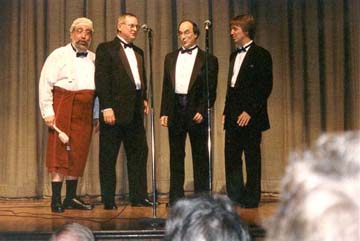 Hospitality again, offering a tribute to a squeaky clean little friend--their "Rubber Ducky." (October 1997)

---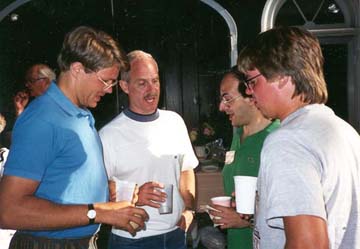 A bunch of the boys were whooping it up in a pick-up quartet at North Shore Chapter's annual Rain-on-the-Hamburgers Party--and yes, it did rain that day. (So long ago, we can't remember what year!)

---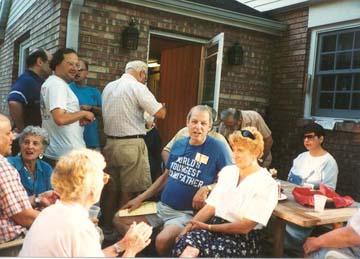 Another year, another Rain-on-the-Hamburgers Party--a time for members' families to get together for fun, food, and song. (August 1995)

---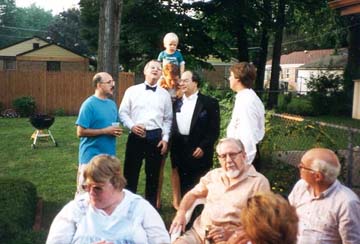 What's a barbershop gathering without woodshedding--and the obligatory "fifth wheel"? (August 1995)

---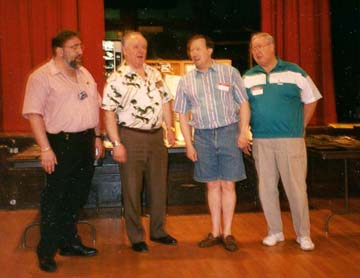 Here's one for the history books: the chorus' current director (Dick Yanow) and three former directors (Ed Jensen, Jay Giallombardo, and Ralph Aldridge) blend their voices in harmony at North Shore Chapter's 50th Anniversary Reunion. Thirty-five former Shoreliners showed up that night! (May 1995)

---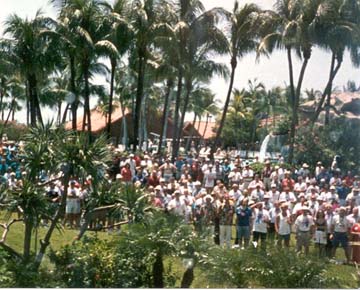 One of the highlights of a barbershopper's year is our Society's annual international convention. This is a view of the massed sing at the 1995 convention in Miami Beach. Your humble webmaster is in this photo--see if you can pick him out. (Hint: He's standing in front of a palm tree.) (July 1995)

---
But wait . . . that's not all you get! CLICK HERE to see additional photo albums.
---
Other barbershop chapters' web sites include photos taken at chapter meetings and chorus rehearsals. Ours doesn't because our chapter meetings aren't particularly photogenic. On the other hand, if you decide to visit us some Wednesday night, our meetings might possibly become more photogenic -- who knows? Find out more about when and where we meet by returning to our home page. Back to home page.