and the
North Shore Chapter
of SPEBSQSA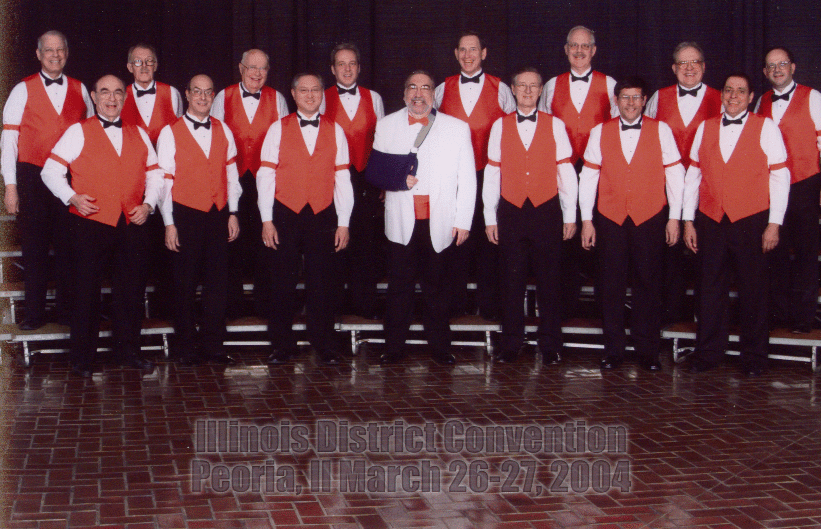 "Welcome to Our Home Page!"
---
Click on a topic:

The Shoreliner Chorus consists of members of the North Shore Chapter of the Society for the Preservation and Encouragement of Barber Shop Quartet Singing in America (SPEBSQSA), part of the world's largest men's singing organization.

One of approximately 800 local units of SPEBSQSA, North Shore Chapter was chartered in 1945 and is dedicated to encouraging, promoting, and preserving the traditional American style of four-part vocal harmony known as barbershop.

Our Mission: North Shore Chapter of SPEBSQSA is a group of men of all ages who enjoy gathering in fellowship to sing in the four-part, a cappella, close harmony style known as barbershop. As we participate in our varied social and musical activities, including both choral and quartet singing, our members can develop their vocal skills and their appreciation of the rich heritage of American song, which we share with our community through performances in a variety of settings.


Our Vision Statement: North Shore Chapter of SPEBSQSA will:

Provide, to whatever extent possible, organized chorus activities and organized quartet activities at every regular chapter meeting.

Actively seek public performance opportunities for the chapter chorus.

Continuously strive to increase its active membership.

Continuously strive to improve the musical quality of its chorus as a collective unit and the musical ability of its chapter members as individuals.

Contribute to the cultural panorama of the communities from which our organization draws its membership, thereby:


Increasing its visibility in the local community and fostering a positive perception of our organization,

Enhancing public awareness of, and appreciation for, barbershop harmony, and

Creating opportunities to recruit new members.
Every Wednesday night of the year, North Shore Chapter members and guests gather at the Presbyterian Home in northwest Evanston to share an evening of fun, fellowship, and enjoyment of barbershop singing. Members of North Shore Chapter have ranged from their teens to retirement age and embrace a broad spectrum of occupations. Our current active membership represents eight North Shore communities plus the North Side of Chicago.

A few barbershoppers have excellent singing voices--some have even had extensive musical training--but most are average singers who enjoy blending their voices with other singers.

2005 Chapter Officers

President: Paul Mimura -- 847/677-8092
V.P. Membership & Chapter Development: Joseph Schlesinger -- 847/328-0921
V.P. Music & Performance: Rick Prieto -- 847/864-1960
Secretary: Martin Steigman -- 847/675-9223
Treasurer: Edward Price -- 773/334-1419
Immediate Past President: Martin Steigman -- 847/675-9223

Music Director
Chapter Quartets

Alchemy (Contact: Rick Anthoney -- 630/637-3307; Web site)
Chordmasters (Contact: Bernie Martin -- 847/934-3754; Web site)
Golden Boys (Contact: Bill Gallagher -- 847/869-2707)
Hospitality (Contact: Joseph Schlesinger -- 847/328-0921; Web site)
North Shore Four (Contact: Joseph Schlesinger -- 847/328-0921; Web site)
Replaced Parts (Contact: Herb Nicolai -- 847/827-6417)
Savoir Four (Contact: Dick Bek -- 262/705-5954)

Return to list of topics.



Shoreliner Chorus rehearsals take up much of the typical weekly chapter meeting. During rehearsal, we'll review and polish songs in the current chorus repertoire and learn new songs. As part of chorus rehearsals, our director, Dick Yanow, is constantly teaching proper singing technique and barbershop craft. Quartet singing is also an important part of chapter meetings; time is usually allotted for some form of organized quartet singing. And, of course, members and guests are welcome to stay after the meeting ends to participate in woodshedding, tag singing, and impromptu harmonizing. There is also time during chapter meetings for members to socialize and tend to chapter business.

North Shore Chapter presents at least one show or major public event each year. The annual show is not just a showcase for the chorus to perform selections from its current repertoire; it's also an opportunity for members and local audiences to hear and enjoy excellent guest quartets.

The Shoreliner Chorus usually participates in at least one statewide chorus competition each year. Contests, which are part of the barbershop conventions held in the spring and fall, provide choruses with an opportunity to show off the artistry they have achieved while benefiting from feedback from qualified judges. The conventions themselves are always a good time, where barbershoppers from all over Illinois and neighboring states congregate to renew friendships, try out new arrangements and tags, and enjoy the chorus and quartet competitions.

Return to list of topics.



Barbershop adds just the right touch of musical excitement to any event. The Shoreliner Chorus and any of our quartets are eager to share their love of music with audiences of all ages. For more information about hiring a quartet, call the quartet contacts listed above under "Who Are We?" For more information about hiring the chorus, call our booking manager, Joseph Schlesinger, at (847) 328-0921.

Return to list of topics.



Men of junior high school age or older who like to sing are invited to visit the Shoreliner Chorus/North Shore Chapter of SPEBSQSA (international men's Barbershop Harmony Society), 7:45 p.m. every Wednesday at Elliott Hall, Presbyterian Home, 3131 Simpson St. (Golf Rd. between Central Park & Crawford Aves.), Evanston. Click here for a map to our meeting hall.

No previous experience necessary, no charge to visit, no obligation. For more information, call Joseph Schlesinger: (847) 328-0921.

Return to list of topics.



Every Wednesday evening:
Regular North Shore Chapter Meeting at Elliott Hall, Presbyterian Home, 3131 Simpson St. (Golf Rd. between Central Park and Crawford Aves.), Evanston. Every meeting night's a guest night--and YOU are invited to visit! (However, since we occasionally meet at a different location, it's a good idea to call 847/328-0921 in advance.)

Friday, April 15-Sunday, April 17:
Illinois District Spring Convention, Peoria. Choruses and quartets from Illinois will compete against each other.

Return to list of topics.




Links to Non-Barbershop Web Sites
---


This site is a member of the A Cappella Web Ring.
[ Home ] [ Random ] [ Previous ] [ Next ] [ List ]
---
Return to list of topics.



We welcome your constructive comments and input. Feel free to e-mail us at shoreliners@harmonize.ws or . . .
Sign Our Guestbook
View Our Guestbook
If this guestbook is not working for you, PLEASE e-mail us and let us know. Tell us what web browser you are using. Or just e-mail us and let us know about yourself. Incidentally, our snail-mail address is P. O. Box 741, Evanston, Illinois 60204, USA.

This Web site has welcomed visitors since 6/9/04.
Return to top of Home Page.
Most recent update: October 1, 2004